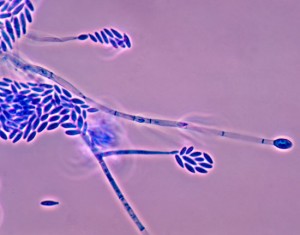 Hillsborough, NC (July 14, 2010) — As a structural component of all plants, cellulose is the most abundant organic molecule on the face of the earth Microsoft Essentials. You may know it as dietary fiber on ingredient panels – lignocellulosic biomass like plant leaves and stalks are full of it. Researchers know it as a renewable feedstock to produce cellulosic ethanol, a biofuel that could reduce greenhouse gas emissions (GHG) from fuel by up to 85% relative to petroleum-based fuels 눈높이 다운로드. A major challenge in making ethanol from plant biomass is breaking down cellulose into simple sugars. In an agreement recently signed with Verenium, researchers at Mycosynthetix Inc multilingual translator. are searching for enzymes (a specialized type of protein that catalyzes chemical reactions) in samples of fungi.
Typical filamentous fungus, found living on many natural substrates and in the Mycosynthetix collection 녹두전 1화 다운로드.
Scientists at Mycosynthetix will be screening samples from their library of over 55,000 fungal species to identify new enzymes to be used by Verenium to produce cost-effective biofuels 양키 모교로 돌아오다 다운로드. Mycosynthetix CEO, Dr. Cedric Pearce adds, "Fungi are the most prolific degraders of plant biomass in nature and are expected to hold the keys to unlocking the potential of cellulose as a renewable feedstock."
Making ethanol from cellulose – cellulosic ethanol – rather than from starch allows for the manufacture of biofuel without affecting the food supply iphone video. The seeds of a corn plant can be collected as a food source and the residual biomass (cobs, stalks and leaves) used to make cellulosic ethanol, while still leaving enough plant material behind to maintain soil fertility 알투비트 싱글 다운로드. Dedicated energy crops, such as fast growing trees and switchgrass, could also be cultivated for fuel production on land that is not used for food production 바닥 최신 다운로드.
About Mycosynthetix
Mycosynthetix is a green chemistry company that owns one of the largest collections of filamentous fungi in the world and uses them as a source of new medicines and green agricultural chemicals 나가수 mp3 다운로드. Mycosynthetix has established an in-house program focused on cancer and neglected diseases such as tuberculosis, malaria and leishmaniasis. Mycosynthetix collaborators include The University of North Carolina at Greensboro, The Ohio State University, University of South Florida and University of Illinois at Chicago Toy Story 3. These programs are funded in part from the National Cancer Institute, the National Institute for Allergy and infectious Diseases, and Medicines for Malaria Venture. Mycosynthetix currently owns the rights to commercialization of a patented, natural herbicide, Mevalocidin, derived from one of its fungi. Mycosynthetix is excited about using its fungal collection to develop new technologies for biofuels applications. For more information on Mycosynthetix, visit http://www.mycosynthetix.com.
About Verenium
Verenium Corporation is a leader in the development and commercialization of cellulosic ethanol, an environmentally-friendly and renewable transportation fuel, as well as high-performance specialty enzymes for applications within the biofuels, industrial, and animal health markets. The Company possesses integrated, end-to-end capabilities and cutting-edge technology in pre-treatment, novel enzyme development, fermentation and project development for next-generation biofuels. Through Vercipia, a 50-50 joint venture with BP, the Company is moving rapidly to commercialize cellulosic technology for the production of ethanol from a wide array of non-food feedstocks, including dedicated energy crops, agricultural waste, and wood products. In addition to the vast potential for biofuels, a multitude of large-scale industrial opportunities exist for the Company for products derived from the production of low-cost, biomass-derived sugars.
Verenium's Specialty Enzyme business harnesses the power of enzymes to create a broad range of specialty products to meet high-value commercial needs. Verenium's world class R&D organization is renowned for its capabilities in the rapid screening, identification, and expression of enzymes-proteins that act as the catalysts of biochemical reactions. For more information on Verenium, visit http://www.verenium.com.
Contact:
Cedric Pearce, Ph.D., CEO
Mycosynthetix, Inc.
(919) 245 0600; (919) 630 9335.
cpearce@mycosynthetix.com
#  #  #